Revolution of Ambient Sensing: How to Use Barometric Data to Enable Your Device to Cope with its Environment
Join the webinar and learn more about applications utilizing barometric data, Infineon's disruptive barometric sensing technology and latest hardware and software tools that support quick and easy end device integration.
Applications utilizing barometric data
The key davantages of Infineon's barometric pressure sensor
Infineon's new, intelligent pressure and temperature sensor combo solution
New boards and software tools that enable easy evaluation and quick integration of Infineon pressure sensors
Speaker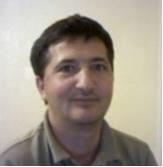 Ilie Poenaru, Application Engineer, Infineon Technologies
Ilie is an electronics engineer specializing in sensing engineering. He has over 20 years of work experience in the semiconductor industry, from device engineering to IC design and application engineering. He is passionate to promote new technologies and ideas that solve real problems in the field of consumer electronics.
Please disable any pop-up blockers for proper viewing of this webinar.