5G Boot Camp: What You Need to Know Now
5G is changing the face and structure of wireless communications and core networking, affecting everything from IoT devices to smartphones and autonomous vehicles. But do you really understand why, and how? This special Boot Camp provides an understanding of the fundamentals of 5G. By the end of the three hours, attendees will:
Understand what 5G is, why it's needed, and its service and performance requirements.
Understand what's required to build out the 5G network, including its core technologies, pain points, and opportunities for further development.
Get an update on the state of 5G deployments, globally.
Day 1: 5G – What and Why?
3GPP and the cellular industry are working furiously to define the first set of 5G specifications. This session describes the services and usage scenarios that 3GPP and ITU aim to support with 5G.
Day 2: Building a 5G System
This session introduces fundamental building blocks such as air interface enhancements, network architecture enhancements, and virtualization technologies. New Radio (NR)-based air interface features such as massive MIMO, millimeter wave spectrum, and flexible numerology or frame structure are explained.
Day 3: 5G – Deployments And Challenges
While 3GPP is finalizing the bits and bytes of 5G specifications, the ecosystem is building device and network prototypes and carrying out Proof-of-Concept trials. This final session illustrates the industry trends in 5G and reports on the state of 5G in the U.S. and around the world. The session also describes the challenges such as 5G spectrum considerations and design and testing challenges.
Speakers

Dr. Jeffrey H. Reed, Founder, Wireless @ Virginia Tech
Dr. Jeffrey H. Reed is the founder of Wireless @ Virginia Tech, and served as its Director until 2014. He is the Founding Faculty member of the Ted and Karyn Hume Center for National Security and Technology and served as its interim Director when founded in 2010.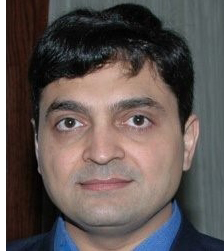 Dr. Nishith Tripathi, Principal Consultant, Award Solutions, Inc.
Dr. Tripathi is a principal consultant at Award Solutions, Inc., a provider of technical consulting and specialized technical training for wireless communications. He specializes in a variety of technologies such as 5G, NFV, SDN, MEC, C-RAN, LAA, LTE-U, LTE-M or Cat M, NB-IoT, ProSe and D2D communication, LTE-Advanced, LTE, VoLTE, IMS, HSPA+, HSDPA, HSUPA, UMTS/WCDMA, 1xEV-DO, 1x, GSM/GPRS/EDGE, and IS-95.
Patrick Mannion, Consultant, ClariTek, LLC
Engineer and technology analyst, writer and and content development strategist focused on the electronics industry. Makes strategic content and editorial decisions to help the engineering community stay informed and managed design risk through live and online channels and events. Combines electronics engineering education and experience with purposeful and informed editorial.
Please disable any pop-up blockers for proper viewing of this webinar.