Effective Test Strategies for 400G Optical Standards
The adoption of optical and electrical PAM4 technology goes mainstream with the 400G/200G/100G/50G Ethernet standards in 802.3bs and 802.3cd. The characterization, compliance and troubleshooting of signals in these PAM4 standards are very different from earlier NRZ PAM2-based standards.
We will discuss how to help designers and test engineers determine the most effective optical test strategies for 400G Optical Standards. During this session, engineers will learn how to make the measurements needed in the optical PHY Layer including TDECQ evaluation techniques.
Attendees will learn about:
Ethernet Networking Market Trends & Technologies
Standards and Where PAM2 & PAM4 Fits
Testing PAM4:
Mark Test – Rethinking Hit Ratios
What is TDEC and How Is TDECQ Different?
Tektronix's Rx & Tx Solutions for PAM4
Who Should Attend:
Datacenter Networking Interface Engineers
Integrated Photonics Engineers
Photonics Engineers
Long Haul Communications Engineers
Optical Engineers and Optical Engineering Managers
Optical Research Scientists
Speaker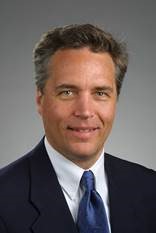 Chris Loberg, Senior Marketing Manager for Performance Oscilloscopes, Tektronix
Chris Loberg is Senior Marketing Manager for Performance Oscilloscopes at Tektronix. In earlier roles with the company, Chris was responsible for marketing management of Optical Communications Test Products and was Americas Technical Marketing Manager for Performance Instruments. Prior to Tektronix, Chris was Vice-President of Marketing for Utah Scientific, a manufacturer of Telecom Switching Equipment; and Vice-President of Sales and Marketing for Texscan, a manufacturer of Cable Television infrastructure equipment. He holds an MBA in Marketing from San Jose State University and resides with his family in Beaverton, Oregon.
Please disable any pop-up blockers for proper viewing of this webinar.